TUAKAU of YESTERDAY
( Tū: to stand; ākau: shore, river bank )
The history of Tuakau dates back to the early 1800's when Tuakau Township was based at the side of the Waikato River, initially Tuakau was a trading centre for passing waka, but after war broke out in 1863 it was occupied by British troops. They built the Alexandra Redoubt, which still stands, on a tall bluff above the river.
This memorial obelisk stands near the entrance to the site. It is dedicated to the imperial and colonial troops, known and unknown, who died in the Franklin district in 1863–64. The etching depicts the Maori waka plying up and down the Waikato river, often engaged in commercial activities of trading flax and grains grown in the verdant fields of the North Waikato, here all under the watchful gaze of the redoubt on the hill above.
After the confiscation of surrounding Māori land, Tūākau became a farming service centre and thus through the mid-late1800s the river was the main source of trade and freight movement between Auckland and the south and therefore the 'first' Tuakau Township was aptly situated a stone's throw away from the renowned Waikato River, 'the longest river in New Zealand, running for 425 kilometres (264 mi) through the North Island. It rises in the eastern slopes of Mount Ruapehu, joining the Tongariro River system and emptying into Lake Taupo, New Zealand's largest lake. It drains Taupo at the lake's northeastern edge, creates the Huka Falls, and then flows northwest, through the Waikato Plains. It then empties into the Tasman Sea west of Tuakau at historic Port Waikato.'
However when the rail system was being constructed the tracks were laid at the foot of the Harrisville Road and thus the Tuakau Tavern and therefore the rest of the town relocated in its current position next to the rail lines c1875, where the main cargo was sheep and beef that were traded at Tuakau sale yards, still to this day, New Zealand's largest operational sale yard.
By 1914 the people of Tuakau had formed their own town district which went on to achieve borough status on 1 January 1955. During its 44 years as a borough, Tuakau had seven mayors. Amalgamations since 1989 has seen it first become part of the Franklin District governed by a district council and then in 2010 with border changes saw it became part of Waikato district when present-day Auckland Council boundaries were created.
The Tuakau train station stock pens and the salesyard on auction days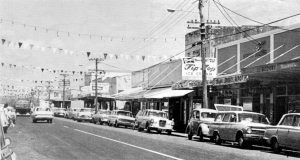 Tags;
construction, council, developments, district, franklin, george street, home, house, housing and building, housing, infrastructure, investment, investors, land, lifestyle, long term management, market, Real estate Auckland, property investment specialists, auction, bare, building, buy, markets, new builds, north waikato, onewhero, packages, papakura, patumahoe, permits, plan, pokeno, port waikato, portfolio, prewett, principals, property, property management, pukekohe, real estate, , REINZ, rent, rural land, sales, sell, south auckland corridor, south auckland land, south auckland real estate, southern corridor, southern corridor real estate, statistics, tony alexander, tuakau, update, waikato, waikato council, waiuku real estate, pukekohe real estate. papakura real estate, patumahoe real estate, tuakau real estate, for sale pukekohe, for sale papakura, for sale tuakau, for sale waiuku, wealth creation, pokeno, vern reeve, ian buchanan, abby mills, southern corridor realty ltd, houses for sale, cheap houses for sale, cheap houses tuakau, cheap houses papakura, cheap houses pukekohe, cheap houses waiuku, cheap house patumahoe